Muhammad Nawaz Sharif was born in Lahore on December 25, 1949. He is the eldest son of Muhammad Sharif, a joint owner of the Ittefaq Group of Industries.
Nawaz Sharif got his schooling from Saint Anthony's High School. After graduating from Government College Lahore, he obtained his Law Degree from the Punjab University.
Nawaz Sharif remained a member of the Punjab Provincial Council for some time. He joined the Punjab Cabinet as Finance Minister in 1981. He was able to raise the allocation of funds for the development of rural areas to 70 percent of the Annual Development Program in the Province. He also held the portfolio of Sports and was able to reorganize the sports activities in the Province.

In the general elections of 1985, Nawaz Sharif won with an overwhelming majority, both in the National and Provincial Assemblies. On April 9, 1985, he was sworn-in as Chief Minister of Punjab. On May 31, 1988, he was appointed caretaker Chief Minister, after the dismissal of Assemblies by General Zia. Nawaz Sharif was again elected as Chief Minister after the 1988 general elections. A massive uplift of Murree and Kahuta was undertaken during his term as Chief Minister of Punjab.
On November 6, 1990, Nawaz Sharif was sworn-in as Prime Minister of the country, after his alliance, I. J. I. won the October 1990 elections. However, Nawaz Sharif could not complete his term of five years, and was dismissed by the President in April 1993. He was reinstated by the superior Judiciary, but had to resign along with the President in July 1993.
During his tenure as the Prime Minister, efforts were made to strengthen the industries with the help of private sector. Projects like Ghazi Brotha and Gawadar Miniport were initiated. Land was distributed among landless peasants in Sindh. Relations with the Central Asian Muslim Republics were strengthened and E. C. O. was given a boost. In an attempt to end the Afghan crisis, the "Islamabad Accord" was reached between various Afghan factions. His most important contribution was economic progress despite American sanctions on Pakistan through the Pressler Amendment.

Pakistan Muslim League again won the elections held in February 1997, and Mian Nawaz Sharif was re-elected as Prime Minister with an overwhelming majority.


Taking advantage of his absolute majority in the National Assembly, he added a landmark in the constitutional history of Pakistan by repealing the controversial Eighth Amendment. This Thirteenth Constitutional Amendment stripped the President of his powers, under Article 52(b) of the Eighth Amendment, to dismiss the Prime Minister and dissolve the National Assembly. He added another milestone to the Constitution when his Parliament adopted the anti-defection Fourteenth Amendment Bill. His development venture of the Lahore-Islamabad motorway has also been appreciated by a segment of the society, while others have criticized it for being an extravagance for a developing country.
On October 12, 1999, the civilian Government headed by Nawaz Sharif was overthrown by a military coup.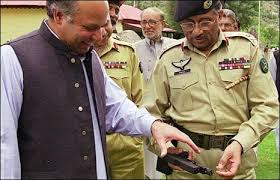 Return to Pakistan 2007
On September 7, 2007, Justice Shabbir Hussain Chatha ordered police to arrest Shahbaz Sharif, brother of Nawaz Sharif and produce him before the court, after the hearing in Lahore. The court ruled that "Shahbaz Sharif should be arrested (at) whichever airport he lands at". Nawaz Sharif also faced detention on the pair's planned return from exile to Pakistan on September 10, 2007, to challenge President Pervez Musharraf's eight-year military rule.
On September 10, Nawaz Sharif arrived in Islamabad on a Pakistan International Airlines (PIA) flight from London but was prevented from leaving the plane as the authorities at the Islamabad Airport wanted to escort him to the arrival lounge. The rest of the passengers on board were allowed to deplane, and negotiations began with Sharif as he, along with his few supporters, did not want an escort and wanted to deplane themselves.
Sharif finally agreed to be taken out of the plane, and was taken to the arrival lounge and upon his arrival there he was approached by theNational Accountability Bureau chief who issued a warrant due to corruption charges made against him. After that, Nawaz Sharif boarded another airliner to be exiled back to Saudi Arabia. "He has been sent back," a senior security official told Agence France-Presse, as local television showed a PIA airplane carrying the deported Sharif from Islamabad airport.
Later on September 10, Nawaz Sharif landed at Jeddah airport and was greeted by Saudi intelligence chief Prince Miqren bin Abdul Aziz. Pakistan's Religious Affairs Minister Muhammad Ijaz-ul-Haq stated that "He has not only embarrassed Pakistan but also the leadership of Saudi Arabia by violating the agreement." Although Nawaz Sharif had denied the existence of any 'exile deal' with the government before his homecoming, he later admitted that there was an agreement but that it was for only five years.
On presenting him before the Court, the European Union asked the Pakistani government to respect the court ruling. In Washington, D.C., Sean McCormack of the White House (joined by India) stated that the deportation was an "internal matter" but said that elections should be "free and fair" (but expressing mild disapproval of Pervez Musharraf's action). But the United States organisation Human Rights Watch accused the Pakistan Government of violating international law. Sharif's Pakistan Muslim League condemned the deportation by filing a contempt suit in theSupreme Court of Pakistan. His brother Shahbaz Sharif was due to travel with Sharif from London but changed his plans at the last minute.On November 25, 2007, several weeks after the return of Benazir Bhutto, Nawaz Sharif was able to return to Pakistan. He was not arrested and, like Bhutto, was able to return to political activity.
A private television channel allegedly reported that Nawaz's media manager Pervaiz Rasheed seized tapes and intimidated their staff after Nawaz lost his temper in an interview. According to the director news of the private TV channel in a press conference, they had been held in hostage during an interview with former PM Nawaz Sharif. He (Nawaz) had also used unbecoming language against President Pervaiz Musharraf and PML(Q) top leaders while answering one of his questions.

2008 elections
On November 26, 2007, Nawaz Sharif filed for the January Parliamentary elections. He handed in his papers in Lahore filing for two parliamentary seats.
Mr Sharif announced his party's manifesto being a single demand for the restoration of the judges sacked in November by President Musharraf. Ms Bhutto however said that this is an issue that the new parliament can decide on.
[

Assassination of Benazir Bhutto
| | | |
| --- | --- | --- |
| " | It is not a sad day, it is a dark, darkest, gloomiest day in the history of this country. | " |
Sharif called Bhutto his sister and vowed to avenge her death.
However after the death of Bhutto, Sharif met with Zardari and advised him to boycott elections. Asif Zardari refused the offer and offered Nawaz to take part in the elections arguing that the opposition parties would definitely win after this chain of unfortunate events in the country and mishandling of issues by the government. Nawaz accepted the offer and announced it publicly in a press conference. He gave the reason that in order to bring the President's government down the whole opposition must assemble and move in one direction.
On Monday, February 18 the PML (N) dominated the Punjab assembly and won 68 seats out of 272 from the National Assembly finishing second, directly behind the PPP (Bhutto/Zardari's party) at 88. However, after adding the reserved seats for women and minorities, total number rose to 91. The results became clear on February 19. His massive victory in Punjab was met by a festive mood. Later that day in a press conference he said that he would welcome the political leaders back to the parent party who had left his party and joined the PML (Q). Former Pakistani Prime Minister Nawaz Sharif and Asif Ali Zardari, the husband of slain former Prime Minister Benazir Bhutto told February 21, 2008 their parties will work together in the national parliament after scoring big wins in the 2008 election.
On Tuesday, February 26, 2008, Nawaz announced that he and his brother Shabaz Sharif would run in by-elections upcoming in the country within the next few weeks, to become Members of Parliament, since they have no restrictions against them. the PML (N) left it to the PPP to chose a Prime Minister, since they agreed on forming a coalition government.
Nawaz Sharif has challenged the petition filed by the federal government against the acceptance of Mr Sharif's candidature for National Assembly seat-121 . Ashtar Ausaf Ali, former Advocate General of Punjab, is the lawyer representing Nawaz Sharif.
The Pakistan Muslim League-Nawaz (PML-N) and the Pakistan Peoples Party (PPP) on June 27, 2008, won 3 and 2 by-election seats, respectively, to the national parliament. Polls were postponed for the 6th seat in Lahore due to Nawaz Sharif's eligibility contest. A court ruled he was ineligible due to the old conviction, amid the government appeal in the Supreme Court, which will hear the case on June 30, thus postponing the vote in the constituency. The 2 parties also won 19 of 23 provincial assembly seats where by-elections were held. The results will not affect the February 18 general election results in which Benazir Bhutto's PPP won 123 seats in the 342-seat National Assembly and Sharif's party came second with 91, while PML-Q which supported Pervez Musharraf came a poor third with 54 seats. Sharif's Pakistan Muslim League (Nawaz) won 8 provincial assembly seats, while the PPP won 7 provincial seats.

Reinstatement of Judges
Nawaz Sharif stated in Lahore that: "I want to inform the entire nation that on Monday 12 May 2008, all deposed judges will be restored; the national assembly will approve a resolution the same day." The judges include Iftikhar Chaudhry, Supreme Court Chief Justice, and President Musharraf sacked 60 judges under the state of emergency. On 12 May 2008 the day that PML-N leader Nawaz Sharif stated that the deposed judges sacked under President Musharraf's emergency rule last November, would be reinstated, Mr Sharif over the weekend beginning 9 - 11 May met PPP Partner Asif Ali Zardari in London to discuss the deadlock and the official date of when the judges would be reinstated, but the meetings dissolved, with no agreement that both party officials could agree upon. Returning to Islamabad Nawaz spoke to media mogul Geo Television Network and announced that he is withdrawing his party members from the federal government(cabinet) and effectively resigning from the coalition government. After repeated meetings with the ruling party, and refusal by the president to restore the deposed judges, Sharif decided to join the lawyers movement planned on completion of two years of first dismissal of chief justice on Mar, 9 2007. the plan was to start a long march from Karachi and Quetta simultaneously on Mar, 12 reaching Islamabad and staging a permanent sit-in till restoration of all deposed judges. The governement got very confused, with initially house arresting Sharif and other prominent lawyers, and raising the greatest ever road blocks by placing containers all over the road to islamabad. there was no way anyone could get in or out of the twin cities of rawalpindi-islamabad, even not the ambulances carrying sick. When the long march picked up peak of tempo, with civil society joining the lawyers and politicians, it was at 0652am(PST, 16 March, i.e before start of planned sit-in) that the Prime Minister after obtaining the President's approval(amidst long meetings of army chief with them) announced restoration of judges with immediate effect. thus, sharif was made a hero for restoration of original judiciary despite so many odds.

Resignations from the Coalition Government
On May 12, PML (N) announced it was leaving the government after its failure to reinstate the judges; its ministers resigned.

2008 Musharraf impeachment
On August 7, 2008, the Pakistan Peoples Party and the Pakistan Muslim League (N) agreed to force Musharraf to step down and begin hisimpeachment. Asif Ali Zardari and Nawaz Sharif, announced sending a formal request or joint charge sheet that he steps down, and impeach him through parliamentary process upon refusal. Musharraf, however, said: "I will defeat those who try to push me to the wall. If they use their right to oust me, I have the right to defend myself." Pervez Musharraf, accordingly delayed his departure for the Beijing Olympics, by a day. A senior coalition official told Reuters: "Yes, we have agreed in principle to impeach him." The draft of the ruling coalition's joint statement had been finalized by the draft Committee, and Musharraf must obtain vote of confidence from the National Assembly and 4 provincial assemblies. The government summoned the national assembly, or lower house of parliament, to sit on August 11. Capt. Wasif Syed, spokesman for the Pakistan People's Party—confirmed: "A decision has been made that he has to go now, and all the parties have agreed on this point.".
On 18 August 2008, Musharraf resigned as President of Pakistan. He said he was resigning for the country.

Presidential election
Pakistan's Election Commission on August 22 announced that Presidential elections would be held on September 6, and the nomination papers could be filed from August 26. The president is elected by the 2 houses of parliament and the 4 provincial assemblies.. There was speculation that Nawaz Sharif would run for President, but on August 25, 2008, Nawaz Sharif announced that Saeeduzzaman Siddiqui would be the Pakistan Muslim League (N) nominee to replace Pervez Musharraf as President of Pakistan. Siddiqui was defeated by Asif Ali Zardari for the presidency.

Ineligibility to contest
In early 2009, Pakistan's Supreme Court barred Nawaz Sharif from contesting elections or holding public office, sparking widespread protests and disorder in some parts of the Punjab province. Sharif planned to attend a banned political rally in Islamabad on 16 March 2009, but was instead placed under house arrest. He duped police standing outside his door and went to attend the famous long march in Islamabad. In the mean time the Pakistani Government announced to appeal against the disqualification of Sharif brothers from contesting election and occupying public office. The next day Government agreed to reinstate the deposed judges of the Supreme Court after which Shariff gave his consent to call off his long march. After this whole political deadlock Nawaz Sharif emerged as popular personality in the politics of Pakistan.